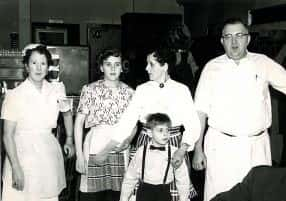 About
Catering by Verba's is a full-service catering company. We are happy to celebrate our 30th year of elegant service to the greater Cleveland area. We provide premium food service to St. Michael's Woodside Party Center. We also provide off-premise catering to any event site of your choosing.
The Verba family has been in the food service business for over 75 years, starting it all on the near-west side of Cleveland with Verba's Cafe. John or "Jack" Verba and his wife Marie ran this local corner family bar with pride and confidence, serving unique wild game, and "from scratch" cooking.
John's son, Joe Verba opened his own catering venue in Lakewood, Ohio, serving traditional Carpatho-Rusyn cuisine. His techniques and recipes were all handed down to him from family over many generations. His brother and sister, along with mom, helped to shape the beginnings of Catering By Verba's.
Executive Chef Joey Verba, is the son of Joe Verba, and has continued the tradition of food service in the family. He trained in Charleston, South Carolina, acquiring the knowledge of Southern, Floribbean (mix of Florida and Caribbean), and Low Country cuisine. He has worked in a variety of catering settings, including Walt Disney' World's Grand Floridian Resort and Spa, and Events by Stephen Duval. Joey graduated in 1999 with a degree in Culinary Arts from Johnson & Wales University.
We provide service for events of 50 guests or more, encompassing anything from white-tablecloth service to outdoor picnics and barbeques. We absolutely love to work in conjunction with other event planners and decorators to produce spectacular corporate and private events!